The annual Little Princess Ball is Saturday, February 9, from 3 p.m. – 5 p.m. The Little Princess Ball will be hosted at two locations this year: the Brunswick Center at 1513 N. Howe Street in Southport and the Brunswick Center at 101 Stone Chimney Road in Supply.
Join us for a special afternoon filled with dancing, face painting, games, and much more. The Little Princess Ball is open to girls in kindergarten through fifth grade accompanied by an adult male role model. Little princesses are encouraged to wear their prettiest dress, ball gown, or favorite princess costume.
Over 300 people attended the Little Princess Ball last year. The event sells out each year. "The Little Princess Ball is a magical and enchanted afternoon for young girls and their gentleman escorts. This annual event is one of the most popular events we host with our partner, Brunswick County Parks and Recreation," said Joann Shanley, CIS Development Director. "This is an afternoon for little girls and their dad, grandfather, uncle or brother, to create lasting memories while dancing, doing arts and crafts projects together and sharing light refreshments."
Refreshments are provided and each girl will take home their very own tiara and wand. Sign up early to reserve your spot as space is limited. Tickets are on sale January 14 through February 8 for $12 per person. Payment is due when registering. Tickets are location specific and not interchangeable. Volunteers are always welcome to assist on this special day. If interested, please contact Joann Shanley by email at jshanley@cisbrunswick.org or call 910-351-8007.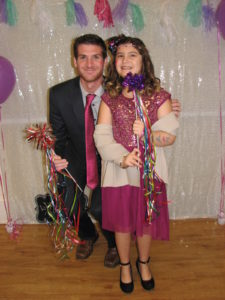 Volunteers, CIS board, staff, families and friends, as well as Brunswick County Parks and Recreation make sure it's a day of celebration and fun for all the princesses. The Little Princess Ball is sponsored by CIS of Brunswick County and Brunswick County Parks and Recreation with support from Brunswick Senior Resources, and other community donors.
Tickets can be purchased:
Brunswick County Parks and Recreation, 20 Referendum Drive, Bolivia; Phone: 910-253-2670
Tickets can also be purchased online at bcparks.recdesk.com