The hottest holiday trend this year could be thrifted gifts
Not everyone can go out and spend hundreds of dollars on Christmas gifts. Buying thrift shop gifts is a reasonable way to gather a few gifts from the heart. Thrifted gifts are expected to be a major trend this holiday season. Consumers are increasingly interested in giving and receiving thrifted gifts for the holidays, according to Accenture's annual holiday shopping survey.
While regifting may be frowned upon, resale is expected to be all the rage this holiday season. Visit one of the four Communities In Schools (CIS) Thrift Shops located around Brunswick County and find perfect gifts for everyone on your list.
It pays to shop at CIS Thrift Shops. Celebrate the holiday and give gifts without spending a lot of cash. Shopping at thrift shops is exciting because of interesting items that can be found. There is a variety of jewelry, men's and women's clothes, housewares, sporting equipment, and even furniture. Visit any CIS thrift shop to discover great gifts for just a few dollars. There are many unique and interesting items to buy and give away as Christmas gifts and there are several ways to repurpose thrift shop finds for other gift uses as well.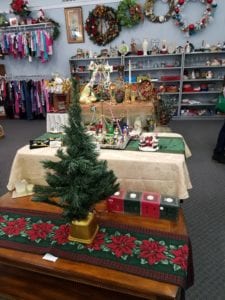 There are some great things to purchase during holiday shopping at a CIS Thrift Shop. Many items at a thrift store are brand new, never worn and never used. It's a good idea to have a list of who you are buying for and what you are looking for. Look for designer labels on clothing, jewelry, bags/purses and accessories. Many of these are like new because the "previous owner" took great care of them.
The whole key to successfully buying thrift shop Christmas gifts is to ask yourself, "Would I like a gift like this?" It's going to take time to find just the right gift, just as with shopping at a traditional retail store, but it's worth it for the money you will save.
"Price isn't the only thing driving customers to buy resale from CIS Thrift Shops," said CIS Communications and Thrift Shop Operations Director Todd Beane. "The variety in selection of clothing allows for many choices and CIS shops offer one of the best customer shopping experiences around."
A great service to the community, a great service to Brunswick County students, high quality merchandise, and low pricing make CIS Thrift Shops an establishment that people have come to love. CIS Thrift Shop staff and volunteers are dedicated to making your visit the most memorable shopping experience. Staff and volunteers are always happy to see you, offer shopping advice, and go above and beyond to provide great customer service. CIS Thrift Shops are kept clean, organized, and welcoming to new visitors as well as our long-time valued customers and community members.
Here are some ideas to get you started for amazing thrift gifts:
Housewares
The housewares section is where you'll find dishes, kitchen supplies, bric-a-brac, cups and wine glasses—all of the stuff that makes your house feel cozy. There are many gifts available that appeal to specific interests. CIS thrift shops always have several interesting novelty coffee mugs. It could be the best $1 you spend. Pair a mug with a bag of coffee, tea, or hot cocoa mix, and you've got the whole package.
All kinds of jars
Thrifted jars are your best friend when it comes to homemade gifts. Scrumptious cake or cookie recipes can be combined together in jars, decorated and given as gifts. They can even be filled according to a person's individual interests. For someone who likes to draw, put a set of colored pencils in a jar and pair it with a new sketchbook. For someone who knits, fill the jar with knitting needles and include a ball of yarn.
Media
Give the gift of cooking by sharing a great collection of recipes from a cookbook from our thrift shop book section. The shops have a great selection of books to open a new world for a child or adult! There are vintage children's books with beautiful illustrations, or history books and romance novels for the adults. Vinyl records and compact discs can also be found in our media libraries to help customers find an old classic song and take them back in time.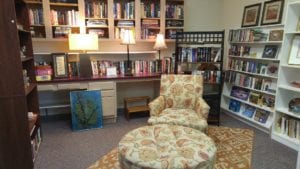 Party gift/Host gift
If you are looking for party or host gifts, CIS Thrift Shops are the perfect place. Check out the glassware, party platters, and ceramic bowls. Silverware and cloth napkins are always available in thrift shops. Purchase some silverware pieces and various cloth pieces or cloth napkins. Wrap your silverware in vintage cloth napkins for a gift to a holiday party, dinner, or reception.
Clothing and accessories
These are probably the most common things found in our thrift shops. CIS thrift shops have racks of brand new and gently used men's, women's, and children's clothing. Designer labels are easy to find at discounted prices for Christmas gifting. If you have little girls to buy for, you can buy a fancy pretty little pocket book/purse. There are many fancy, sparkly ones to put fun stuff in. So much fun and only a couple of dollars compared to a department store.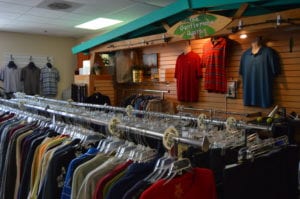 Art
You can also buy pretty art, or ugly art. Beauty is in the eye of the beholder, but you can always make sure the frame is beautiful. Buy picture frames as gifts for family members with pictures of their relatives and family.
Jewelry
At CIS thrift shops there is a good chance a beautiful stone brooch or costume earrings can be found that someone on your list will love. However, most jewelry is not in jewelry boxes. For a unique idea use printed cardstock (available at craft stores), cut out various shapes and stick your jewelry in the center. Purchase a few sets of jewelry and place on the same card.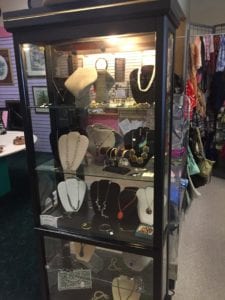 Once you've purchased gifts, the next step is to wrap them. CIS thrift shops have just what you need to do the job. While most people use wrapping paper, why not get a little more creative. A great idea is to place gifts in straw or wooden baskets purchased at the thrift shop. Take sections of cloth and wrap the baskets' handles and line the inside of the baskets. Then simply fill the baskets with several little gifts like lotions and hand creams, brooches, earrings, scarves, and other items.
Happy thrifting this holiday season! Your creativity will no doubt make your holidays merry and bright!
CIS operates four thrift shops throughout Brunswick County for your shopping convenience. CIS Thrift Shops are located in Boiling Spring Lakes, Leland, Southport, and Sunset Beach. To find out about current thrift shop inventory and sales, visit our shop Facebook page at www.facebook.com/CISThriftShops.