Leland CIS Thrift Shop: Putting the Ability in Disability
The Leland Communities In Schools Thrift Shop (CIS) is part of the CIS family of four thrift shops located around Brunswick County. The shops exist to raise funds to support the core program of CIS called Action for Success. CIS Action for Success is a dropout prevention program located in every Brunswick County middle school, Waccamaw School, and Supply Elementary School. CIS Success Coaches work daily with students providing support in the areas of academics, social-emotional learning, behavioral intervention, truancy intervention and parent engagement with the overall goal of keeping students committed to learning and working toward graduation.
Leland CIS Thrift Shop is the newest of the CIS shops and opened July 2016 on Village Road in Leland. It has maintained a developmental and learning environment for volunteers from the beginning. In the last four years Leland CIS Thrift Shop has recruited and worked with volunteers with disabilities to help differently abled volunteers develop their skills and learn about the retail industry while giving back to the community. One visit to the shop on a day when a volunteer with a special ability is working, and their smile and warm greeting tells the story of how freeing it is for them to work independently and give back to society. There is no "dis" in their abilities and they are exceptional in the things they choose to do.
Jennifer Chambers, lead manager at the Leland CIS Thrift Shop, shares that the shop is a nurturing place for customers, volunteers, and students. Volunteers with developmental disabilities grow and thrive in the Leland shop. Under the guidance of Jennifer and other shop staff, the volunteers start learning on day one. They might start out sorting donations or going through the sales racks to straighten items. As they progress and learn to take on new tasks, volunteers can be found steaming clothes and prepping items for the sales floor all the way to operating the cash register and assisting with bagging and checking out customers.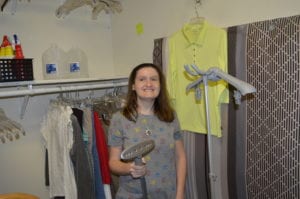 Vanessa has been a volunteer at the Leland CIS Thrift Shop almost since it opened for four years ago. She volunteers at least one day a week for a few hours and many times comes in more days. She is great at processing donations but will tell you her favorite task is steaming clothes for the sales floor. She likes to interact with customers, greeting and welcoming them to the shop and helping people find things they are looking for. Vanessa shared, "Since working and volunteering at the Leland shop my communication skills have improved and I have become more independent with tasks, doing new jobs on my own." Lead manager of the shop Jennifer reiterates this as well, "Vanessa is very reliable and has a great positive attitude. When we have a project day in the shop, she is right beside me working until the job is complete. Vanessa is excited about the Leland shop growth and what she does as a volunteer to contribute to our success."
"All the volunteers with different abilities we work with at Leland CIS Thrift Shop are capable, determined and love giving back and helping others," says Jennifer. Working in the thrift shop gives their lives purpose. CIS Thrift Shop staff work with the volunteers that have disabilities to support them in helping find their areas of interest and teach them marketable skills to achieve their goal.
Another regular volunteer in the Leland CIS Thrift Shop is Derrick. He has been helping at the shop for three years. Derrick also enjoys helping customers and delivering great customer service. But the thrift shop helped Derrick to become more creative and resourceful. He loves to draw, create artwork, and build model cars and motorcycles. Volunteering in the shop allows Derrick to see the new inventory coming in and learn about new things in the shop and how they can be used. He sorts donations and enjoys rearranging things and improving the shop with minor repairs when needed, using his creativity to fix things. Derrick also created a CIS themed motorcycle drawing that is framed and hanging in the shop showcasing his creativity and his generous, giving side. Derrick enjoys helping CIS at the shop and said he gets a lot of praise for his good work from customers and staff. Jennifer went on to say, "Derrick is full of great ideas for the shop, very creative, and always willing to step in and help anywhere needed. That's just the kind of person he is."
The volunteers helping at the Leland CIS Thrift Shop are happy to come to work, they are energetic, and work hard helping the shop raise money to support CIS Action for Success dropout prevention programs in Brunswick County Schools. Jennifer and the shop's assistant manager Sharon Gore-Hardie encourage the volunteers to try new things in the shop and learn more each day. The volunteers learn and develop skill sets which make them valuable assets to the shop.
To learn more about CIS Thrift Shops along with shop hours, locations, and contact information, please visit the Thrift Shops menu link on the left or click here to visit the Thrift Shops web page.