Secondhand Valentine better than the first
February 14th is right around the corner, the day to express love and appreciation to family, friends, and that special someone. Let CIS Thrift Shops help you find a special Valentine's gift. Shopping at CIS Thrift Shops only takes a few dollars to find the perfect gift, at a very sweet price.
Decorative items
Check out the large selection of artwork and wooden frames at CIS Thrift Shops. With a coating of spray paint or chalk paint rubbed to distress, a wooden frame is perfect for holding your own cherished photo. Frames are also perfect to hold a favorite poem, favorite song, even a menu from the restaurant where you had your first date.
Even more creative items can be found in CIS shops' glass and crystal sections. Look for pretty bowls to put candy in, vases to hold flowers, and containers that can be used for candles. You can usually find these pieces for a dollar or less, then fill them with items of your choosing. Buying these items second hand is a great idea and much more friendly on the wallet.
Those left-over red holiday trees and decorations can be had at steep discounts and easily transformed into a Valentine centerpiece. CIS shops have retro-style tumblers and loads of glassware that can be repurposed for Valentine's Day celebrations.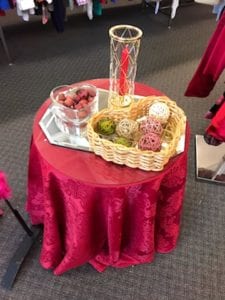 Jewelry and Accessories
CIS Thrift Shops have well stocked jewelry selections, from sparkling necklaces to vintage pieces and natural stone jewelry. There are colorful watches and men's accessories like cuff links as well. Don't miss the shops' choices of neckties for vintage and stylish looks, or even something outlandish and humorous. CIS Thrift Shops also have great selections of scarves for women in fantastic prints and different fabrics.
Treats
Many dishes, bowls, and colorful tins are available for purchase at CIS Thrift Shops. Then simply fill with your Valentine's favorite candy or snack. Shop the assortment of inexpensive baskets that can be used for themed gift baskets. Fill them with dollar store finds like candy, art and craft supplies, books, or cooking supplies. Any basket can be dressed up with a little paint or ribbon, so don't be afraid of a less than perfect basket.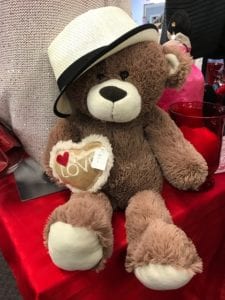 Books
Brunswick County is full of beach goers and book lovers. Visit any CIS Thrift Shop for a great selection of books from fiction, nonfiction, children's, romance, sports, and cooking. Look for books of love poems or love stories, then offer to read them aloud to your sweetie. Antique books and collectible coffee table picture books are enjoyable and make great gifts. Stop by and browse CIS Thrift Shops' "Book Nook" for your next reading adventure.
Thrift shopping for Valentine's Day is a great way to get creative, be inspired, give back to the community, and save money. Visit CIS Thrift Shops located in Boiling Spring Lakes, Leland, Southport, and Sunset Beach with new inventory daily to make your Valentine's Day special. For more information about CIS of Brunswick County, CIS Thrift Shops or school programs, please contact the CIS office at 910-351-8007. Follow us on Facebook, Twitter, and Instagram for regular updates.